Staffing is an extremely competitive industry, so it requires you to be unique and exclusive. To appreciably be conspicuous from the crowd, one needs to know how to position themselves as the staffing firm of choice for privileged clients and attract exceptional talent. The firm's job is to implement the best practices in vogue devoid of any obstacles and keep its clientele and employees content.

The recruiting landscape is rapidly changing! Successful companies are outsourcing hiring services to staffing agencies, and it is proving to be a very prudent move, especially for those with a minimal recruiting team. Staffing firms alleviate a considerable amount of pressure from the HR department, which already oversees several employee issues. It allows the HR department to concentrate on other important activities that contribute directly to income generation or diminishing legal HR exposures for their firm.

Staffing agencies have the proficiency in recruiting the best candidates from an enormous pool of talent. They can strategize the direction and work in alignment with the HR department's requirements. Moreover, a staffing firm will save companies plenty of time, particularly during the usually lengthy hiring process.
Here are five operating strategies that a successful staffing agency must look to implement:
1. Collaborative and Cooperative approach with Employers
A staffing agency must be collaborative and cooperative to entertain the prospect of working with anyone. Suppose the staffing agency does not cooperate with its employers. Then, in that case, there is a strong chance of them onboarding the wrong kind of staff, and therefore risking the possibility of being dismissed by its employers. The staffing agency's employees must possess excellent multi-functional skills and be adaptive to any environment.

A staffing agency must invest additional hours familiarising the client's actual expectations and not limit itself to just the job description. It should include site visits, communication with the hiring manager and the HR team, and understanding the client's business objectives and goals. The staffing firm should know how the client company intends to grow and find the perfectly matching employee without facing any hurdles.

Keeping track of both positive and negative client feedback gives the insight to adapt to future client requirements. This information should be utilized during internal team meetings to proactively identify breakdowns in the existing work process before any major issues develop.
2. Highly Qualified Recruiting Personnel
Staffing firms must have a streamlined process and workflow and be competent enough to settle any internal issues without causing a rift. A staffing agency needs to possess genuinely excellent and professional recruiters who have acquired adequate experience following years of work in various domains. Besides excellent grasping skills, good organizational skills are an added asset for staffing agency recruitment professionals.

It is advantageous for the recruiters to get an insight beyond interview questions by observing an employee's non-verbal reactions, which can convey more than their confidence and capability to answer questions than what is in their resume. These skills are essential to onboard qualified and competent candidates for the client by evaluating candidates based on their conduct, performance, work ethics, and credentials.

A staffing firm must use an ATS to keep applicant records centrally organized and identify and locate them quickly during the recruitment process. An ATS helps screen out underqualified applicants, identify and select qualified candidates, and track them through the entire recruiting process. Through an ATS, the staffing firm can easily compare and evaluate applicants and automatically discard duplicate submissions.

A staffing firm of repute retains most of its employees for an extended period. A firm where employees keep quitting indicates that the agency has pertinent issues. It can give an impression of employees being dissatisfied with the firm to the client company.
3. Wider Recruitment Coverage
Recruiters must consider the large pool of applicants on other job boards alongside those on the employer's job board while shortlisting candidates. A staffing firm that limits itself to one specific job board diminishes its chances of landing the best candidates in the market. A staffing agency must share its job board scope with its employers to help determine if their final shortlist is fully comprehensive of the available talent in the market.

Usage of social collaboration tools that post directly to social networks will maximize the agency's recruiting process. They can easily set up posting to social networks with pre-defined schedules to attract passive and active talent. These platforms automatically track which employees shared the job and the social network from where it originated. It lets your colleagues stay up to date on important information about companies, candidates, and employment opportunities.
4. Being Flexible for the Clients
A staffing agency must be prepared to work beyond the regular working hours to be in high demand and be a preferred vendor. An employer can also work beyond the standard operating hours to ensure their work gets done and streamline the entire process to their advantage. They would want to consult the staffing agency whenever they feel that there is a rectification or change that is required.

Therefore, to fit the employer's demand, a staffing agency that is willing to work beyond the regular hours displays dedication and commitment to deliver work even within short deadlines, even for niche requirements.

Clients can turn to your staffing firm's official social media accounts to reach out to you for any query on issues. It means someone from the firm must be available to respond to them. For example - When a client writes a review on your agency's Facebook page, and it turns out to be a complaint, respond to it quickly and urge them to directly contact you so that you can address the problem at the earliest and provide the best resolution.
5. Adapting to Client Company's Culture
The right staffing firm must not be rigid with a set culture and values and should be adaptable. Companies appreciate staffing firms that are amenable to their work culture, which they pride themselves on.

Adapting to a client company's culture is an aspect that holds a lot of weightage for a privileged staffing firm. Staffing agencies must be willing to operate within the client company's guidelines and internal processes and systems without introducing new procedures that compromise the company's way of working or create unwanted hurdles.

A staffing firm can have their clients respond to a comprehensive questionnaire that can provide invaluable insights into the client's problems, successes, and differentiating factors. A reliable staffing agency must do all the heavy lifting to ensure that the client company hires the most qualified talent to keep up with the emerging trends and compete with their competitors while being productive and progressive.
Start your free trial today
The simplest way to make your recruitment faster. Getting started takes just a few moments and we'll be with you every step of the way.
TrackTalents is a leading cloud-based Applicant Tracking System with notable features. It has an entirely functional, user-friendly interface optimized for low bandwidth usage and is secure with the most recent encryption algorithms.
TrackTalents will efficiently and effortlessly manage your hiring journey from Job Postings, Resume Management, Communication Management, Onboarding, Timesheets, Invoicing, Payroll, Reporting, and integrations with VMS, Career Portals, QuickBooks, Outlook, etc.,
To know more about TrackTalents features, click here TrackTalents – Features or click here to Start a Free Trial.
Summary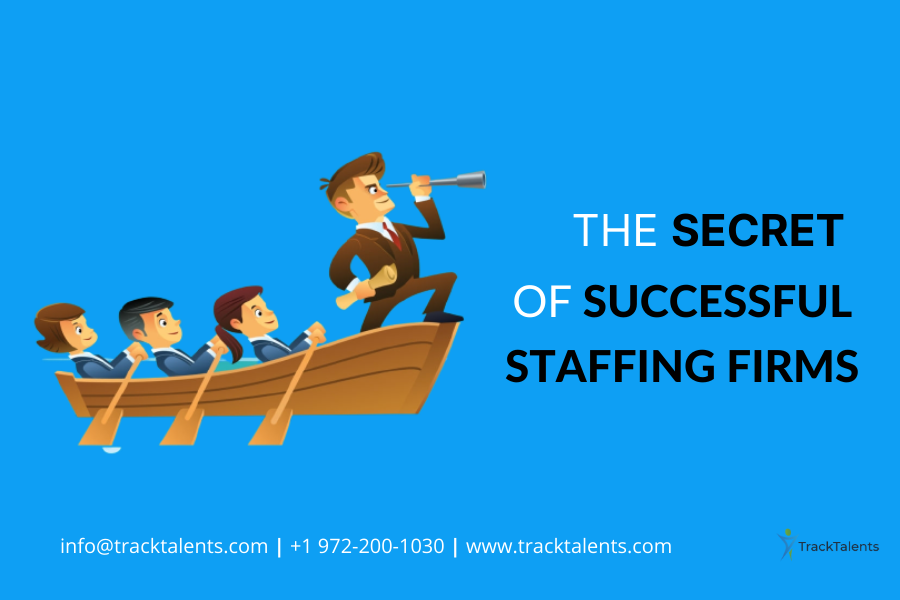 Article Name
Secret of Successful Staffing Firms
Description
What is the Secret of Successful Staffing Firms?
Author
Publisher Name
Publisher Logo