There are many ways in which an ATS can help improve your recruitment processes, such as reducing the hiring duration and uplifting the quality of the talent you hire. However, an ATS implementation requires some time and effort, even after evaluating existing recruitment systems and identifying the most suitable vendor and solution. Some of the steps included in the implementation plan are as follows.
1. Meeting with Vendor
Before initiating negotiations and signing any contract:
Perform a reference check of the vendor and learn about their implementation experiences and take their suggestions.

Once the vendor is selected, organize a meeting and on-board and some, if not all, the HR team members.

Discuss the timeline for implementation, gather possible queries, and get a good understanding of your current processes in place.
The vendor needs to take care of the technical aspects of implementation and integration and better understand your company's requirements. The presence of the HR team will be helpful during the training period.
2. Meeting the Key Stakeholders
People who will be impacted by the new system, such as the hiring managers or recruiters, must be updated on the new system's usage and trained on possible changes that will occur once the system is adopted. Hiring managers and recruiters may chip-in with suggestions that will help the company smoothly transition to the new system and help make the system more effective. Post the vendor meeting, conduct a meeting with the stakeholders and HR team members to address concerns before implementing it.
3. Building and Integration of System
The vendor does integrate the ATS and provide a time estimate for completing this process and inquire on emerging issues and provide appropriate responses. It is a time-consuming process to identify the relevant data that needs to be imported from the old ATS or legacy systems or ignoring the old data and starting afresh.
4. System Testing
Verify that your new ATS meets your specifications and integrates appropriately with the other software in use. Initially, the vendor may do the testing remotely, but it needs to be done mandatorily by the HR team. As the HR team is the most familiar with the system features and team requirements, it is best to let them do the first round of testing. At this stage, collect detailed feedback from the HR team to fix any potential bugs.
5. Training and Management Change
Introduce the system to the team's remainder after receiving feedback from your HR team and updating the system with necessary changes. To help ease the load, expedite the system adoption, fix a training session, and assign specific duties to your HR team members. Provide assistance to aid those affected by the ATS get them familiar and accustomed to the new system.
By taking advantage of these new capabilities, train new users adequately, and that existing users get training refreshers whenever needed.
Summary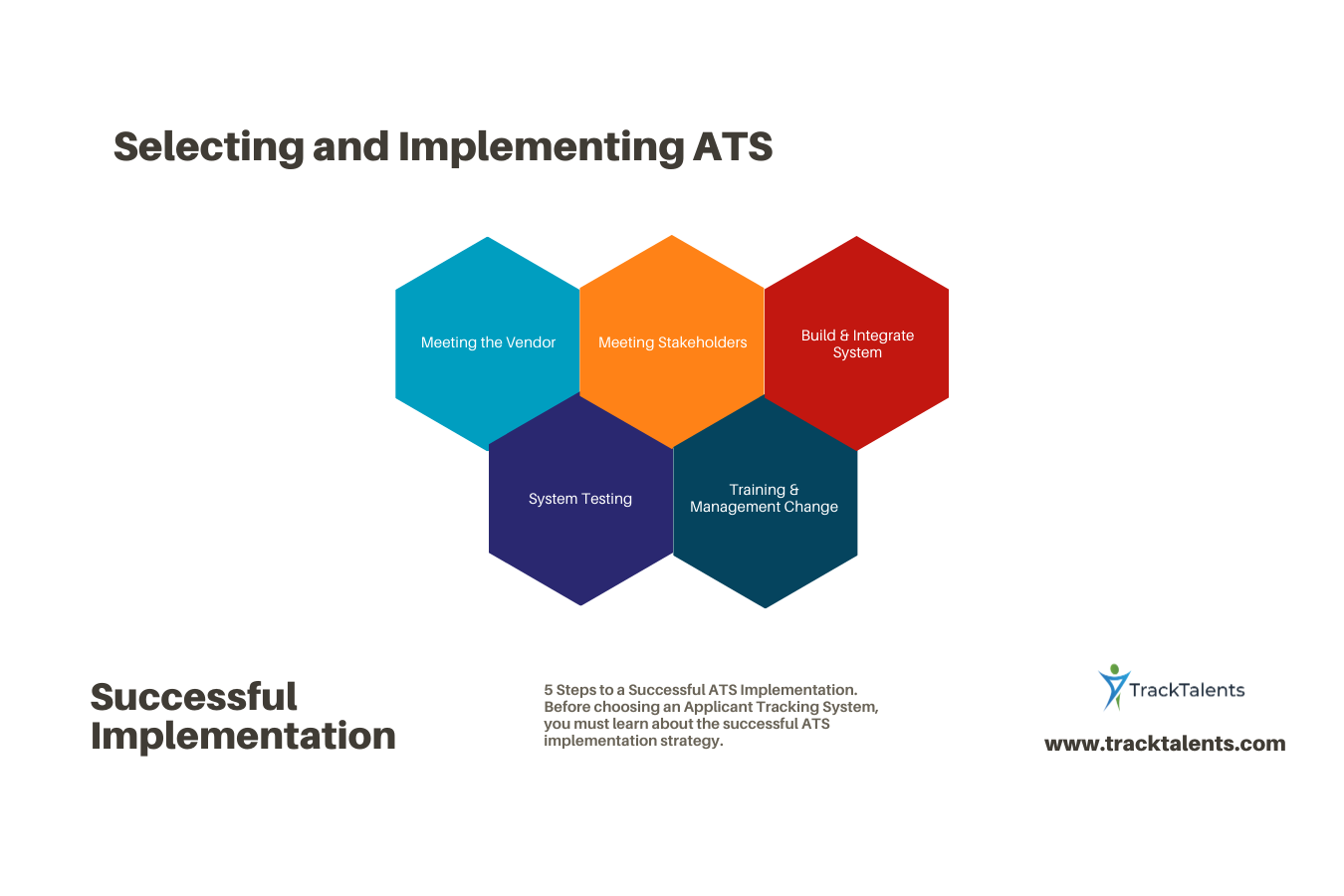 Article Name
Successful ATS Implementation
Description
5 Steps to a Successful ATS Implementation. 1. Meeting with Vendor 2. Meeting the Key Stakeholders 3. Building and Integration of System 4. System Testing 5. Training and Management Change
Author
Publisher Name
Publisher Logo